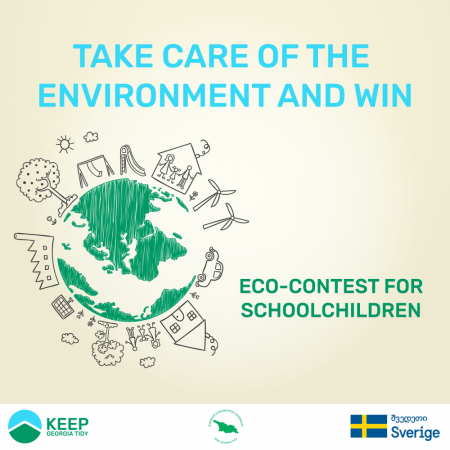 April 22 is Earth Day and NGO "Keep Georgia Tidy" within the framework of the eco-schools programme, invites children
aged 7 to 14, to participate in the environmental competition.
There are no positive environmental impacts, in spite of the fact, that people are staying at home. Unfortunately, many types of additional medical waste are generated, which could stimulate negative effects on human health and the environment. Raising awareness and multi-faceted communication activities are the way to solve this problem. The first stage can be carried out without leaving home and children can actively participate in the competition with their family members.
So, the organization "Keep Georgia Tidy", invites schoolchildren with their family members to participate in the eco-contest around Georgia.
Contest Rules:
1. If there are polluted areas near your house or building, please describe. How should you explain to the population: why it is so important to protect the environment and can human involvement have positive effects on it? If you have any idea on how we can reduce waste, please share it with us.


2. Create your own family group (with your grandparents, mother or father, sister or brother). Prepare original communication posters (use slogans, suggestions, or drawings) that help people to be engaged in different environmental activities and be more focused on this common problem.


3. Introduce your group members (use photos or video clips), submit your work on Facebook with the hashtags #Ecoschools, #Takecareoftheenvironment, #Stayhome and send it to our e-mail:

info@kgt.ge
The submitted works will be evaluated by a special jury. Three winners will be revealed and awarded by the eco-friendly prizes.
From April, 2020, Geogria has joined the international eco-schools programme. NGO "Keep Georgia Tidy" is the regional representative. The contest "Take care of the environment and win" is implementing within the framework of the "Keep Georgia Tidy" Project.