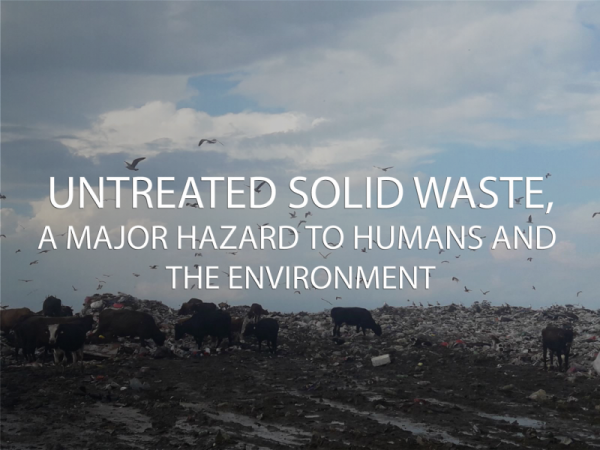 Municipal solid waste (MSW), also known as trash or garbage, has no common definition worldwide. It tends to include the
solid waste picked up from households, businesses, a

nd institutions.
Certain components of MSW entering landfills contain enteric pathogenic micro-organisms such as bacteria, viruses and parasites capable of causing disease in man and animals. Pathogenic micro-organisms in landfills mainly are originated from organic waste such as food waste, pet excrement (i.e. dog and cat fecal), and human excrement in absorbent products (e.g., disposable baby napkins for children and adults, feminine hygiene products) and biosolids generated at wastewater treatment
plants or untreated wastewater itself.
A quantitative microbial risk assessment, conducted at various MSW landfills world widely also found that the risks of infection/ waterborne disease from leachates contaminating groundwater drinking supplies were also very high.
In 2015, waste composition study1
has conducted in Georgia and found that organic waste and diapers contribute >50% of total MSW generated in the country. The comparative analysis is given in the table below:

Waste category

I

July
2015

II

October 2015

III

January 2016

IV

April
2016


mean

%

Paper and paperboard %

10,41

13,96

10,94

9,46

11,1925

Glass %

4,76

9,23

5,08

4,74

5,9525

Metal scrap %

1,99

2,04

2,95

2,11

2,2725

Polyethylene/plastic %

12,76

15,44

12,58

10,58

12,84

Diapers %

6,53

5,39

12,93

10

8,7125

Textile %

5,03

7,37

3,67

8,4

6,1175

Organics %

43,44

39,27

45,36

42,8

42,7175

Construction waste %

6,39

1,11

1,9

3,28

3,17

Special care waste %

1,14

0,84

2,18

0,68

1,21

Leather/rubber %

4,13

3,39

0,5

5,01

3,2575

other waste %

2,86

1,65

1,88

2,41

2,2

loss %

0,56

0,31

0,37

0,5

0,435
Assessment of pathogens load at Georgian MSW landfills (both at legal and illegal) is not conducted regularly but based on the assessment conducted at Tbilisi landfill in 2016 following microbes and parasites were found:
• Bacterias: Fecal coliforms & streptococci and Salmonella
• Viruses: Enteroviruses & Noroviruses
• Parasites: Giardia & Cryptosporidium

The major sources of MSW contributing enteric pathogens were food waste, pet fecal, absorbent products, and biosolids. For all potential sources, food waste contributes the greatest number of fecal coliforms (80.62%). The largest contribution of salmonellae (97.27%), human enteroviruses (94.88%) and protozoan parasites (97%) are expected to come from diapers. Biosolids from wastewater treatment sludge contribute the greatest number of human noroviruses (99.94%)2.

Because organic waste is not separated from MSW in Georgia, landfills attract birds, rodents and in some cases livestock too. This condition supports microbes to easily reach peoples and cause serious diseases among them.

World's recent decade remembers well landfills originated disease outbreaks3: New Deli 2004, Tokyo 2005, Lagos 2007 Las Vegas 2008, Madrid 2011, Aleppo 2016 and so on.
And now, WHO world statistics about pathogens presented at Georgian landfills:
• Faecal coliforms and streptococci of those infected, approximately 1100 to 1600 people die each year due to invasive disease
• Salmonella is 1 of the 4 key global causes of diarrheal diseases. significant contributor to global morbidity and mortality with an estimated 26.9 million cases and approximately 200,000 deaths directly or indirectly attributable to typhoid each year
• Enteroviruses infects >10 million people yearly of those >3,000 deaths are reported and rest get medium to severe damage of immunity system
• Noroviruses results in about 685 million cases of disease and 200,000 deaths globally a year. It is common both in the developed and developing world
• Landfills originated parasites: Giardia and Cryptosporidium negatively effect Approximately 280 million people annually. Through the mortality from those parasites are rare (mainly in infants and the elderly) these causes serious depreciation of immunity systems
National Center of Disease Control and Public Health of Georgia (NCDC) tracks some of landfill/unsanitary condition originated disease statistics which says that in 20184:
• Gastrointestinal infections (Enteroviruses & Noroviruses) effected 14 075 people of those 19 died.
• Salmonellosis and food toxicity: > 37 000 people diseased, mortality is not reported .

---
1Waste Management Technologies in Regions Program funded by USAID in Georgia
2Landfills Originated Biohazard Assessment in Easter European Countries 2017, EU Commision
3UN WHO outbreak statistics: https://www.who.int/csr/don/en/
4 Healthcare Statistical Census 2018, NCDC